Custom designed for a yacht. These crystals wont clatter.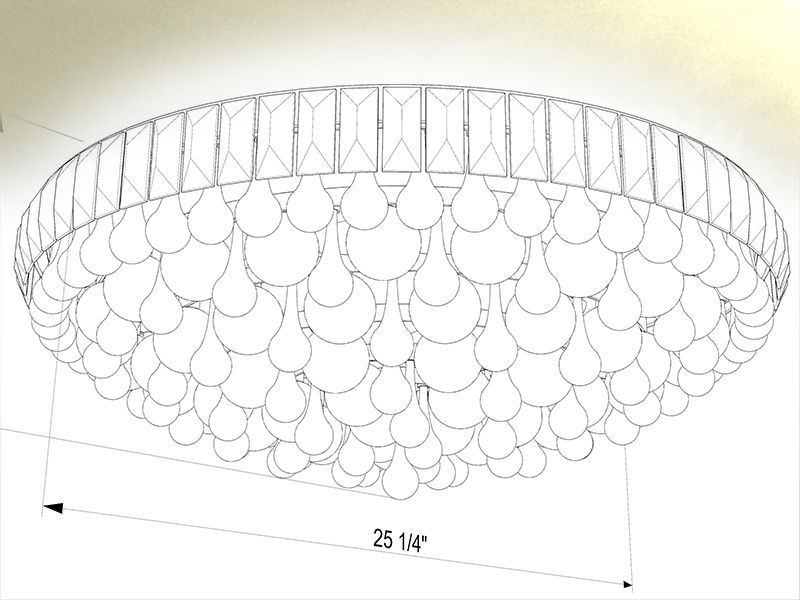 Silent on Sea
Originally designed for Ralph Lauren's yacht, this fixture is inspired by the 1940's Modernist crystal drop flush mount chandelier, shown below. The angular prisms around the perimeter create a natural transition from the flat plane of the ceiling down to the dimensional intricacy of the mass of glass teardrops. Working upwards they cast geometric halo of refracted light to the ceiling. It has been uniquely engineered to eliminate "clinking" between crystals when rocking on the high seas.
There are no photos because this was never manufactured. A thematic change in decor led to different lighting choices. I still post this here because I'm proud of it for several reasons beyond its simple beauty. Creating a hanging crystal fixture for a boat is absurd because the continual clatter would drive anyone mad. But innovating a design that simultaneously embraces the delicate materials, eliminate any chance of noise, while continuing to pass UL approval was a fun challenge to resolve. For this, I also taught myself photo-realistic rendering that includes light refraction to create an image that captures the potential that this could be.
Collaborators